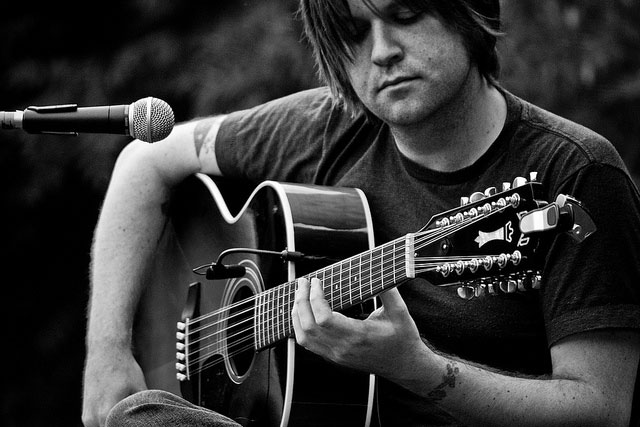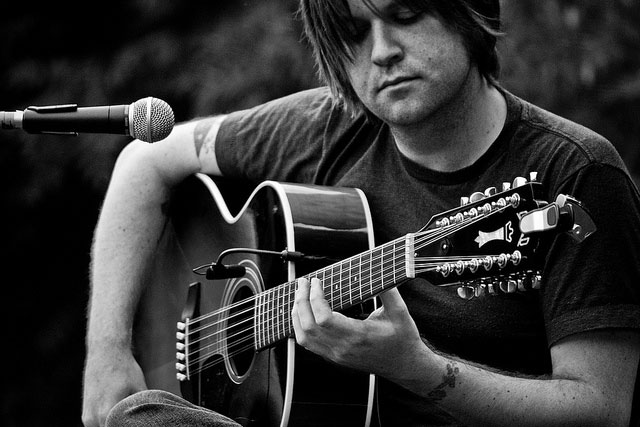 British guitarist and songwriter James Blackshaw is no newcomer to the music scene–his upcoming album Summoning Suns will be his 10th–but his music is most certainly a breath of fresh, creative air. Recording on his Guild GAD 12-string, strung up like a 6-string, Blackshaw has been getting major buzz for his slightly melancholic, innovative album.
And we aren't the only people to notice Blackshaw and Summoning Suns. Pitchfork writes:
Summoning Suns is a near-complete stylistic restart for Blackshaw, so of course some touchstones are clear. What matters more, however, is the preternatural ease he seems to have with this idiosyncratic pop, where the pedal steel peeks out from unorthodox places and the voices slide in uncanny curves. Sure, stylistic and mechanical hesitations pepper these seven songs, but even those instances feel mostly like the charming reservations of a brilliant beginner. That's an unexpected status for James Blackshaw in 2015, but Summoning Suns and the future it could portend warrant the inertia they follow.
We had the chance to ask Blackshaw a few questions about his songwriting process and his favorite Guild. Read the full conversation below!
GG: Does the instrument you write on effect what/how you write (i.e.: writing on a 12-string vs. a 6-string?  A dreadnought vs. a concert?) If you write on your Guild, what draws you to write on that instrument rather than others?
JB: I'm not much of a collector really, so I tend to only own one of each type of guitar (6-string, 12-string, classical, electric etc) at any one time and for nearly ten years, every acoustic steel string guitar I've owned has been a Guild. I just get fixated on a particular type of guitar for a while and it definitely changes the way I play, based on the tone and response of that instrument.
For example, my fretting hand definitely seems to be more active and the melody line is more pronounced while I'm playing 6-string, but with the 12-string I like to let the open strings ring out and I write more with that very big rich sound in mind.
GG: Does playing a 12-string strung up like a 6-string affect the way you play? Does it give you a different tone or feel?
JB: I strung my Guild 12-string up out of necessity really. I didn't have and couldn't afford to purchase a 6-string guitar at the time! It might not have been built to play that way, but it actually handles well. The sound is very balanced with a nice big low end and bright chiming high notes. And because I'm used to playing 12-string and classical guitar, the slightly wider neck and spaces between the strings were quite comfortable for me.
GG: Tell us about how you got your first Guild!
JB: I think it was around 2007 that I finally had a little more money to spend on a 12-string and decided to drop into a guitar shop in London. I picked up a Guild G212, put it in one of my favourite alternate tunings at the time and it just sang. I tried out a number of other far more expensive guitars that day and for me, there was no comparison in terms of sound, playability, aesthetic and affordability and I continue to feel this way to this day.
GG: How does playing live effect your guitar setup? Do you keep things pretty simple, or do you add effects to your Guild?
JB: I keep things very simple. I do play my Guild 12-string live and I have a Fishman Pro Neo-D02 pickup in the soundhole which I plug into a D/I which goes straight into the soundboard. I combine that with a condenser mic pointed at the 12th fret and balance those two signals. Usually, I won't add effects at all unless the room is very dead sounding acoustically in which case I might ask the engineer if they can add a small amount of hall reverb low down in the mix.
Check out the video of James and his Guild 12-string below!