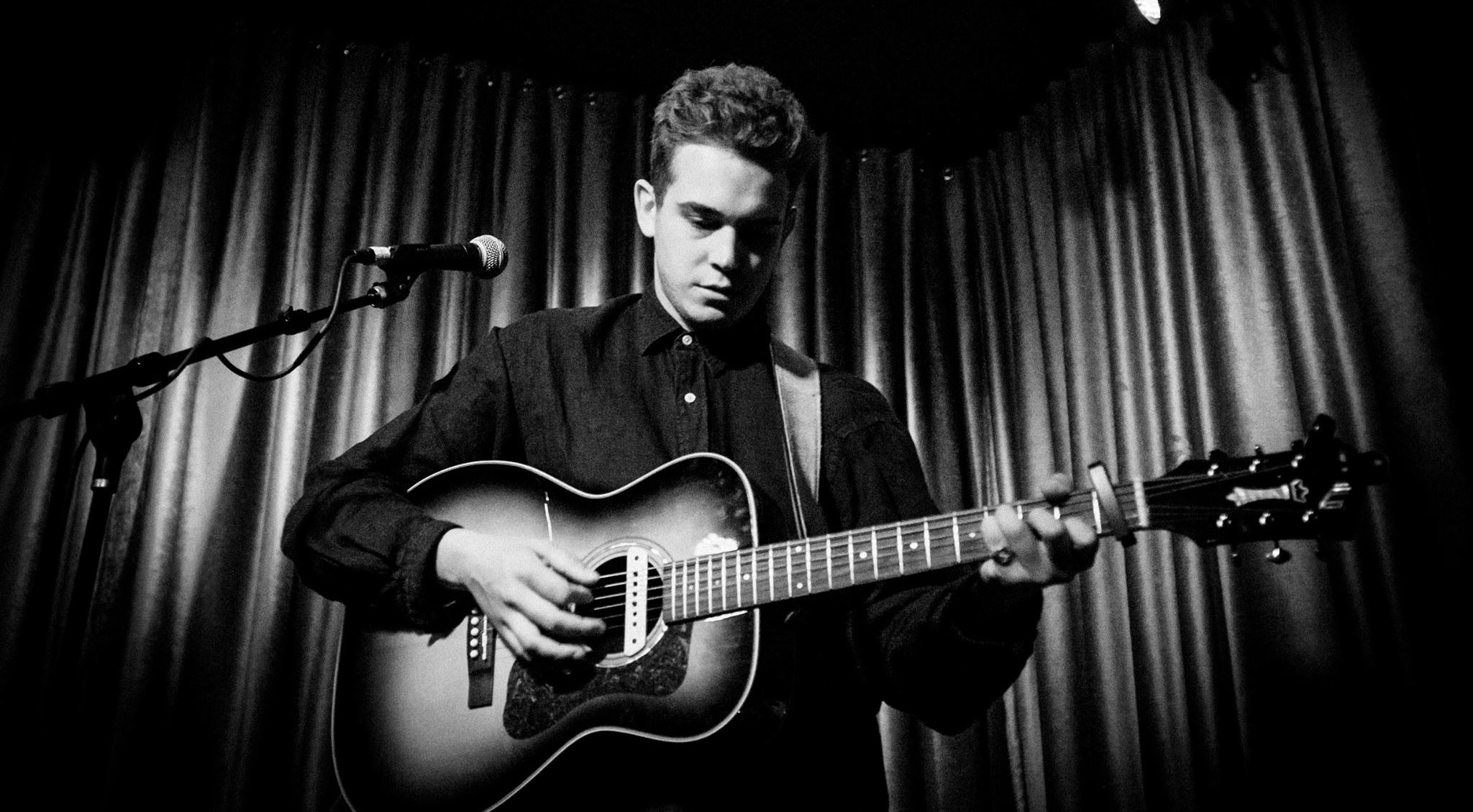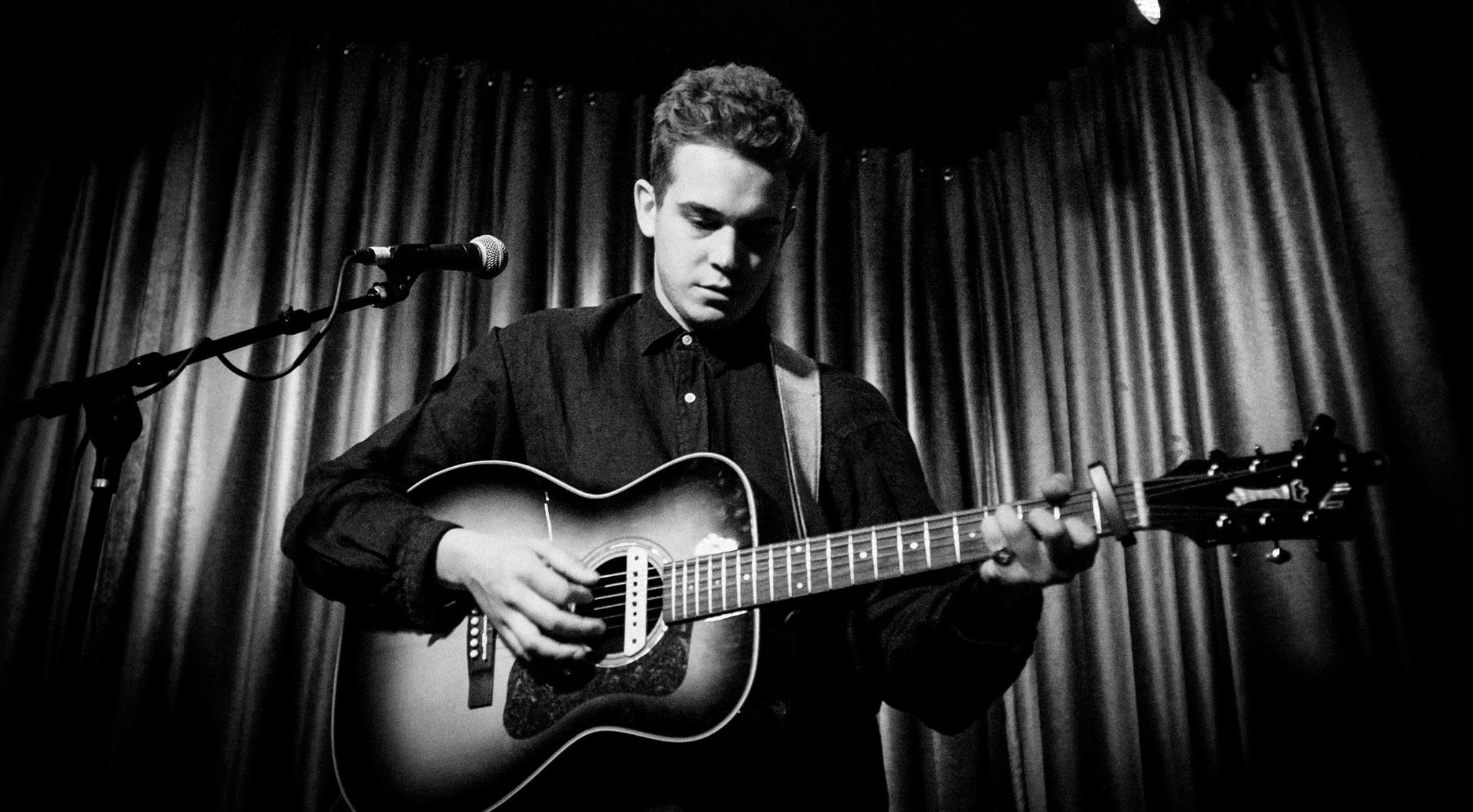 Listening to Henry Grace's music, you would never guess that this UK native was young enough to still be in college. His lyrics, his playing, his debut EP "Crash The Moon" seem to be a part of a musician with years of writing and touring under his belt. Henry visited Guild HQ in California and played a few songs on our new Guild USA guitars, along with treating us all to some insight behind his burgeoning musical career.
GG: Tell us a bit about your background. How did you get started with music?
HG: I have really special memories of listening to my parents record collection when I was young. I remember forcing them to play artists like Cat Stevens and Eva Cassidy on repeat during long car journeys. I started playing guitar when I was around 12 and would just spend hours and hours perfecting some Guns N' Roses solo. It wasn't really until my late teens that the songwriting and singing came into play.
GG: Why did you make the move from the UK to the US?
HG: Guess I really wanted a change of scene. I had kind of run myself into the ground back in England so I enrolled myself in college out here. That's when playing music professionally really started for me.
GG: How/when did you decide that you wanted to pursue music?
HG: It was kind of a natural progression. From finding the guitar, to writing songs and then to performing them is such a journey in itself that I knew fairly quickly it was what I wanted to do. But my mindset around music as a "pursuit" has always been very inward. I just constantly want to improve as a musician and a songwriter.
GG: Tell us about your Guild. How/when/where did you find it?
HG: I bought my first Guild, an M-120, on Denmark Street in London 4 years ago. It quickly became my go-to guitar. It has so much punch for such a small body.
GG: Does your Guild influence your tone and your style of writing?
HG: Definitely. I view Guilds as such folk based instruments and I don't think I could have found a more suited guitar for my music than the M-120. I also have an OM-140 that I use for more open tunings because of the wider neck.
GG: Do you write melodies first, or words? Both at the same time?
HG: I guess the melody always come first. Sometimes I'll sit on a riff for months before I actually write some lyrics to it. Usually the songs I'm most proud of though are the ones that came out of thin air in the space of around 20 minutes.
GG: What's been your favorite gig to date?
HG: I played the Hotel Cafe in Hollywood last month for the release of my EP. It was quite an emotionally driven night with it being my last  show in LA and for the release of the record. I had a great band with me, guys that I've come to love as friends and musicians and even my cousin got on a flight to come and play! It was a special evening.
GG: Who are your biggest influences?
HG: That's a tough one because I often find I'm influenced by particular songs from different artists. I've been listening to a lot of Ben Howard and Bon Iver lately.
GG: What do you do when you're not gigging or playing music?
HG: I still haven't made the upgrade from my 90's flip phone to an iPhone so I honestly spend a lot of my time just being lost…
GG: Any other hobbies?
I'm still in college so that takes up a lot of my time. I just got into UC Berkeley so I'll be heading up to San Francisco in the Fall.
GG: What's in store next?
HG: Right now I'm heading back to England for a bit and will be playing at the Troubadour in London during July. Now that the EP is done, I'm really looking forward to getting back into writing new music and exploring San Francisco and maybe finally buying an iPhone.
Learn more about Henry here. Learn more about Guild USA and the M-20 here.