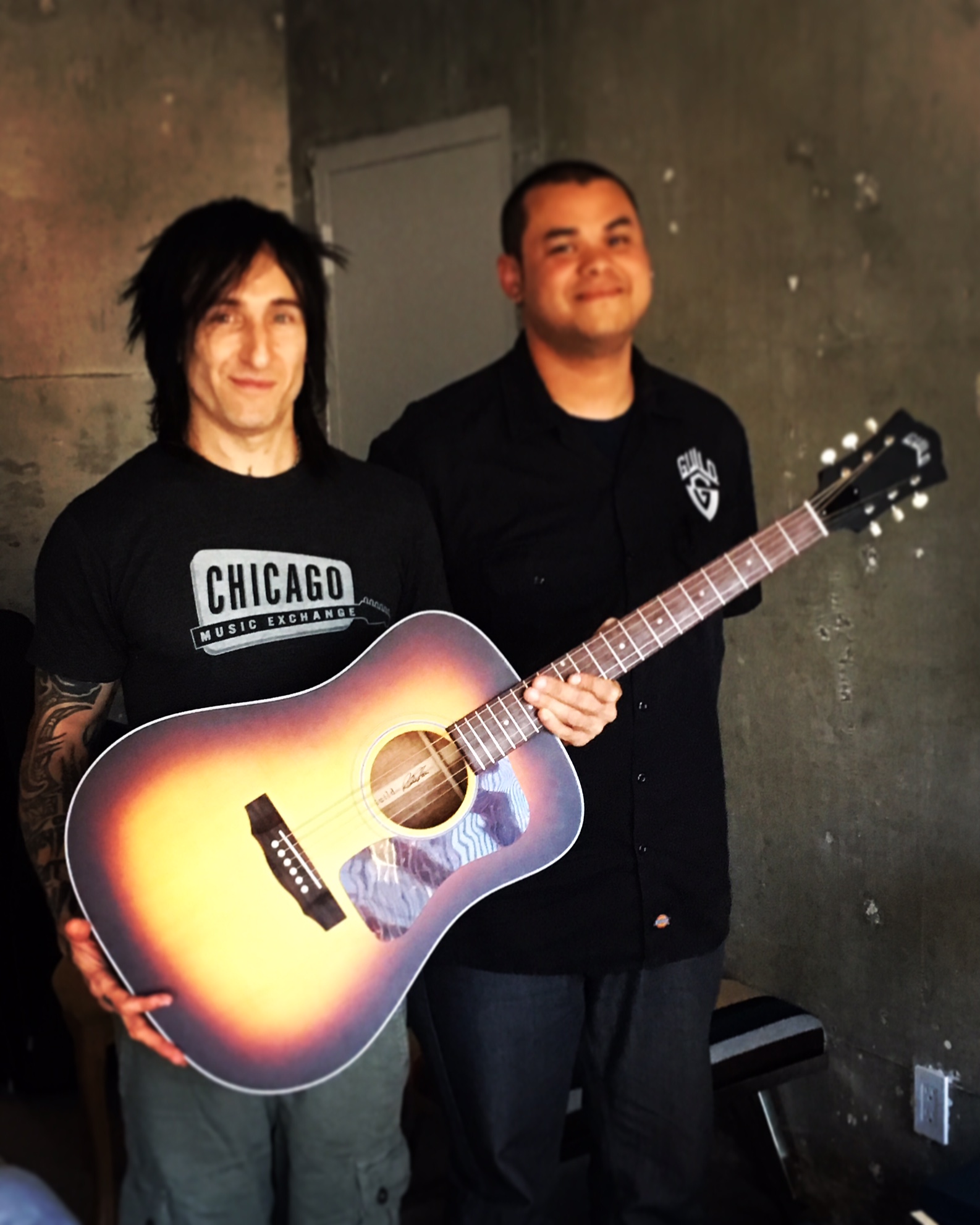 This summer, Guild Guitar Assembler Jackson Herrera got the opportunity to build one of his favorite artists a custom guitar. Richard Fortus needed a new dreadnought for his current Guns N' Roses tour so Jackson and the Guild Manufacturing team jumped on the chance to make Guild's first custom guitar out of its new California factory. We loved hearing this story straight from Jackson and thought you would as well, so here is a summary of what happened in Jackson's own words. Take it away, Jackson!
—
I started talking to Richard about building a custom guitar on July 19th. He explained that he needed a new acoustic to take on tour and I told him that I was one of the builders at the new Guild California Factory. I explained that we were currently building two specific models that I thought would fit very well with what he was looking for: a roadworthy, good sounding guitar with a truss rod and reliable hardware—a guitar that would work for playing two specific songs each show, "Patience," and a cover of the Rolling Stones' "Angie."
After telling him about the two dreadnought models that we are currently building, the D-20 and D-40, and sharing some pictures with him, he expressed interest in the D-40 VSB Satin with the possibility of specific electronics, the Fishman Infinity Matrix.
We started building 2 identical D-40 models on July 25th. Drew (Haines, Finish Manager) and I selected the tops, backs and sides. I bent the sides, glued the head and tail blocks, did all the bracings, notching and boxing on both guitars. Later, Drew helped me install all the routers and jigs for the binding.
[Hover over the photo to scroll through more in-process images!]
We included some special details for Richard, with the help of Dale (Wallace, Maintenance) and Jack (Prior, R&D Engineer). They laser printed Richard's signature inside the guitar next to the Guild USA logo, as well as added extra bracing on the sides of the guitars for sound purposes.
I installed the binding and purfling, scraped and rough sanded the bodies, and neck set both guitars.
Drew took care of the paint job and sealer, and Joe and Jeff (Finish Painters) completed the rest of finish with grain fill and a final coat. Chris did all the final assembly: he glued the bridge, installed the electronics and frets and setup the guitars. It was definitely a team effort.
On August 16th, we met Richard at his hotel room and talked about Guild, the new USA Guilds, future plans, and music in general. Richard really played both guitars to the limit, playing every single spot on the fingerboard, and trying different tunings and styles.
Jack and I were really pleased and proud that both guitars not only sounded fantastic, but there was also no fret buzz or other technical issues. The guitars were really responsive, sensitive and loud. Richard was completely satisfied with the instruments and our work; he chose one of the two guitars and stated that from now on, this Guild D-40 would be his main acoustic guitar for the rest of the tour. He expressed, as well, that this D-40 sounded better than the other guitars in his collection.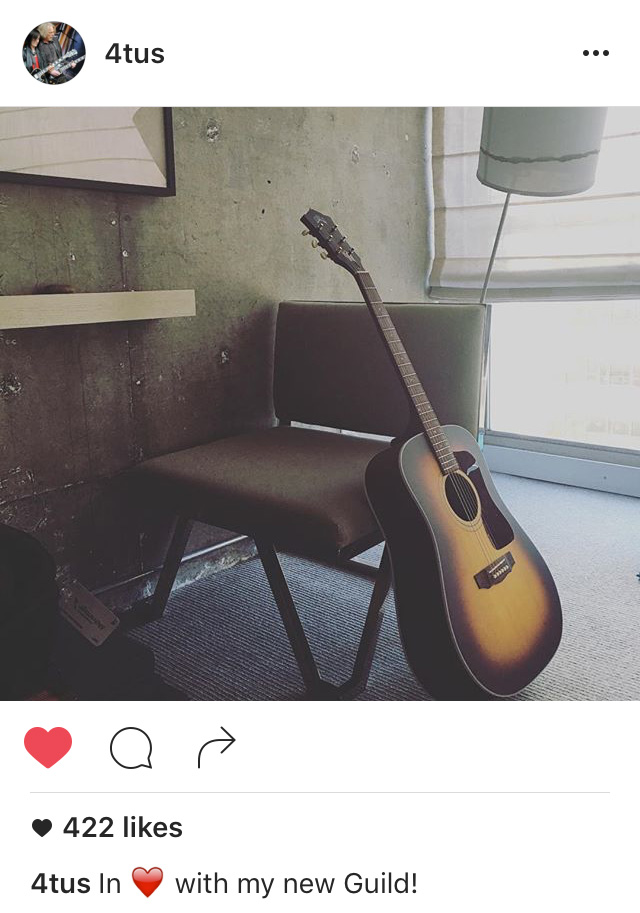 Richard invited us to the first of the Guns 'n Roses show at Dodger Stadium. I'm very proud to say that Richard Fortus of Guns N´ Roses, my favorite guitar player and member of my favorite band ever, played a Guild D-40 made in Oxnard, California by the Guild Manufacturing team, in front of a sold out crowd at Dodger Stadium. The guitar sounded and looked beautiful!
My family and I were invited backstage and Richard told us how great the guitar played, especially for its first time in front of a live audience. He introduced me to his tech Craig DeFalco (who is also Eddie Van Halen's tech), who also expressed how happy he was to hear that Richard was working with Guild.
I really think that we have a responsibility to keep the Guild legacy alive and well; people are interested in knowing that we are caring for the future of this brand.
-Jackson Herrera
PS: Is this the beginning of the Guild Guitars Custom Shop Oxnard, CA? I think you know the answer…