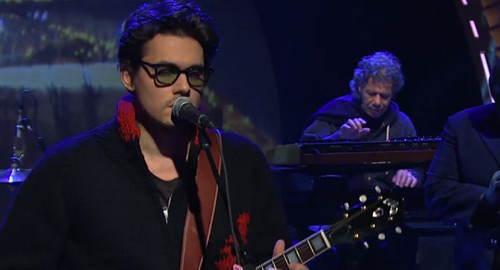 A reunited John Mayer Trio enjoyed their first TV performance in nearly five years with an appearance this week on the new Late Night with Seth Meyers.
Mayer, bassist Pino Palladino and drummer Steve Jordan were joined by Chick Corea, Manolo Badrena and Wallace Roney for a jazzy cover of JJ Cale's "After Midnight."
Mayer, who recently returned to Twitter after quitting the social media platform in September 2010, sent out this tweet:
"Watched it back and I have to say: cool on the part of @latenightseth to feature 4:30 of a song from the '70s played mostly instrumental."
The trio is also working on a new album.
Watch the performance clip below, featuring Mayer on the new Guild American M-75 Patriarch Aristocrat.