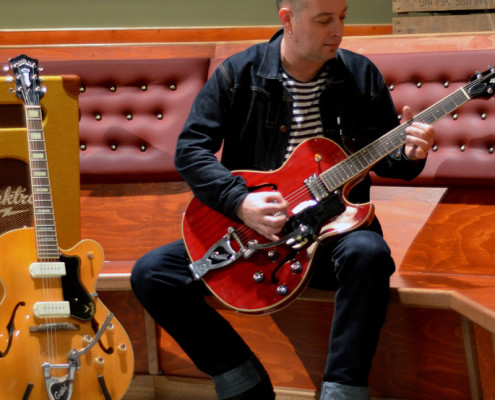 Holland-born CC JEROME has been a staple in the Blues and 1950s Rock n' Roll scene for over twenty years. Jerome got his start in the 80's with a very successful group called The Bellhops.
Throughout his career, he has worked with many groups such as The Ranch Girls and the Ragtime Wranglers, Kid Rocker and the Phantoms, The Backbeats, Lee Rocker, Pep Torres, Levi Dexter, The Specials and Gene Loves Jezebel to name a few.
Jerome has also played with many rockabilly musicians, such as Chuck Berry, Joe Houston, Billy Lee Riley, Larry Donn, Big Al Downing, Joe Clay, Don and Dewey, Johnny Powers, Gene Summers, Sanford Clark, The Coasters, The Calvanes, Johnny Vallis, Charlie Gracie, Roman Self, Roy Gaines, and Mac Curtis.
In 2007 Jerome started CC Jerome's Jetsetters in the Netherlands. The band released two albums and the third will be released in April 2015. In addition, CC Jerome worked on an album with Australian Rockabilly king, Rusty Pinto, that will be released Summer 2015. He is also currently the lead guitarist for Linda Gail Lewis, the little sister of piano legend Jerry Lee Lewis.