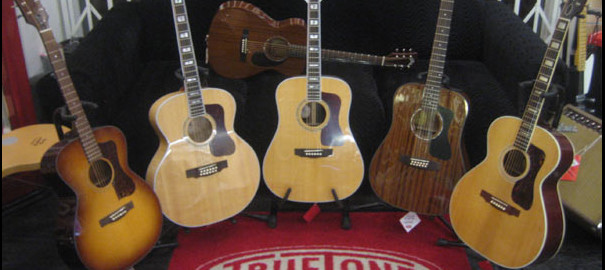 TrueTone Music is a prime sanctuary for Guild aficionados.
Located in Santa Monica, Calif, just a few blocks from the beach, TrueTone boasts 18-foot-high walls elegantly bejeweled with an exquisite selection of fine guitars, all carefully selected by co-owner Ken Daniels.
"There aren't any guitars that are going to make it on the wall of my store unless I like them," said Daniels.
A veteran fingerstyle guitarist, Daniels knows exactly what he likes — trusted Guild guitars.
"I really like the venerable D-55 and the F-412," said Daniels. "I also really like the newly redesigned and newly engineered D-125 and D-125-12."
Daniels said his long career in the music business makes him a highly reputable source of information for players seeking acoustic excellence.
"We know Guild guitars; we have a long history with them," Daniels said. "We've been selling new Guilds since the '70s, and we've seen their evolution. That makes us qualified to a great extent to be able to evaluate the line."
Despite the breadth of knowledge of its staff, outstanding reputation and high-profile clientele (Brad Paisley, John Mayer and Jakob Dylan, to name only a few), TrueTone remains humble.
"We don't claim to be the best in anything," said Daniels. "We work hard to be the best that we can be, and we get that validated by a lot of clients, so I always appreciate hearing that."
Perhaps one of the reasons clients stay true to TrueTone Music is the vast selection of new, used and vintage Guild models on museum-like display in a 2,000-square-foot section of the store.
Or maybe it's the shop's renowned repair facility, uncompromising commitment to quality and best bargains on iconic U.S. brands.
Whatever it may be, you're welcome to find out. But beware — it might be tough to find your way out.
"This place is like the guitar version of the roach motel," said one of TrueTone's most loyal clients. "It's easy to get into, but hard to get out of."
Visit TrueTone Music at:
714 Santa Monica Blvd.
Santa Monica, Calif. 90401
(310) 393-8232
www.truetonemusic.com