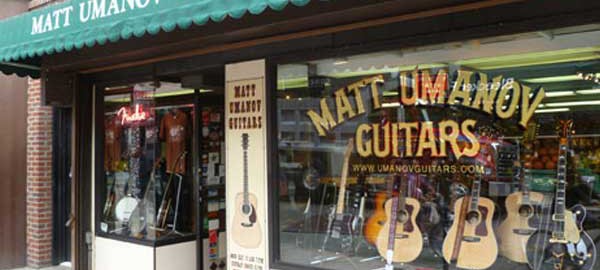 Matt Umanov Guitars in New York's Greenwich Village bears the name of a legend. Umanov worked for Guild during his formative years and also studied under the great New York luthier John D'Angelico, widely regarded as one of the 20th century's greatest arch-top instrument makers. He opened his first guitar shop in 1963 and worked later that decade in Dan Armstrong's Greenwich Village workshop on Armstrong's famous plexiglass instruments. Umanov is now considered one of the world's leading authorities on high-quality guitars, and he is highly sought by other noted guitar makers for his wealth of expertise.
His fascination with the instrument took hold very early on — he first held a guitar at age 3, and he began tinkering with electronics only a year later.
"I was a very mechanical kid," Umanov said. "I was the 4-year-old who took things apart and put them back together."
His imperturbable passion and determination took him a long way. As a teenager, Umanov landed a job doing final setups at the Guild factory in Hoboken, N.J., where he worked with craftsmen three times his age.
By age 18, Umanov had already established a solid reputation as one of the Northeast's prime go-to men for high-end guitar repairs. When he opened his own retail and repair shop in the 1960s, he worked on instruments for giants such as Bob Dylan, Eric Clapton and Judy Collins, to name only a few.
After his youthful apprenticeship with Guild in Hoboken and throughout his colorful career right up until today, Umanov has continued to work extensively with Guild guitars. He knows them to a tee and he swears by supreme quality.
"Guild guitars are beautifully built and have tremendous value," he said. "It's great stuff. I'm a guitar maker; I'm a guitar restorer. I stand behind everything we sell here. I know what a well-built guitar is and what it isn't, and if a guitar is going to blow up in one year, 10 years or 40 years, I can see it now."
The impeccable reputation of Matt Umanov Guitars continues to grow not only because of the staff's genuine devotion to delivering exceptional service, but also because of the shop's truly fine instrument selection. That includes plenty of top-quality Guild models.
"I have them here because they're excellent," Umanov said. "If they weren't excellent, I wouldn't have them. I don't want anything that's not excellent in this store."
With a clientele ranging from neighborhood kids to A-list celebrities, Matt Umanov Guitars remains an ultimate destination for guitar aficionados in general and Guild aficionados in particular.
Matt Umanov Guitars
273 Bleeker St.
New York, N.Y. 10014
umanovguitars.com