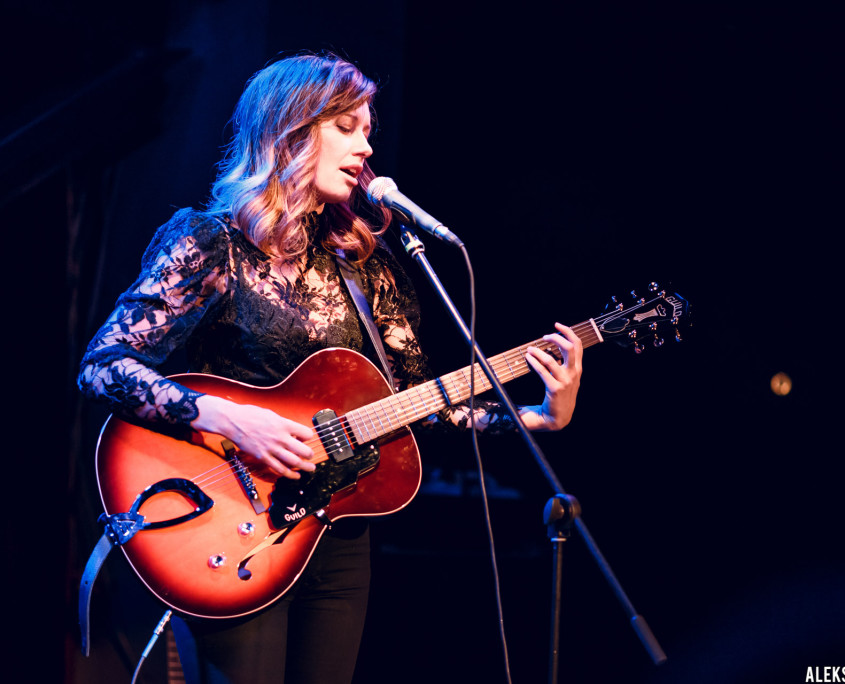 Nashville-based singer/songwriter Lera Lynn has been making waves for the last year, following her breakout acting and musical performance in season two of True Detective. No newcomer to the music scene, however, this performer's haunting melodies and classic americana-style guitar playing are about to take center stage once more as her third album is set to release on April 29th (you can listen to a track off the upcoming album here). We had a chance to talk with Lera about her Guild guitars, the music industry, and what she has planned for the next year.
GG: What was your first encounter with Guild? How did you stumble upon your vintage Guild Starfire III?
LL: My vintage Starfire was my first electric guitar. I was looking for an electric but I didn't know what kind. I wandered around Mars Music in Atlanta (which has since closed) and saw it sitting on a stand up high. Of course, I was attracted to it initially because it's a beautiful guitar. When I held and played it, it felt so right, I had to buy it. I remember spending hours on end playing it when I got it home, in all positions, seated and lying on the couch. I couldn't put it down! 
GG: Does your Guild shape your sound or influence your playing style at all?
LL: My Starfire has a tone like no other electric guitar I've owned or played. It's so responsive to touch and at once makes the creamiest, thickest, most ballsy cut-thru sounds. I play with a lot of dynamics so this guitar is absolutely perfect for me. It's a champ for all; haunting, sparse, rock & roll, country, jazz… You name it, the Starfire owns it. I truly love that guitar.  
GG: What drew you to the T-50 that you've been playing lately?
LL: When I'm playing as a duo with multi-instrumentalist/producer Joshua Grange on pedal steel, it's helpful for me to be able to change tones to keep the show interesting. In the past, I've traveled with an electric and an acoustic to satisfy this need. But, when heading overseas to play, it's not always possible to fly with several guitars. The T-50 slim is great because it can achieve electric guitar sounds of course, but it can also be used more like an acoustic, making my life on the road much more simple. 
GG: As your newest album is about to release, what were some of the highs and lows of the process of creating an album?
LL: I think the greatest challenge (which can be a blessing too) in making records is the limit of time. And that's not necessarily referencing the neurotic tweaking that so many want to do, but more the stress involved with deadlines. We tracked as much as we could in-between tours and one-offs but ultimately did the bulk of the work between Thanksgiving and Christmas. There were times when the pressure of finishing by our deadline seemed unbearable, cause you know, inspiration isn't something you can just order up. But when we powered though those days and had something to show for it that evening, it felt pretty good to pat ourselves on the back. I love/hate the intensity of recording!           
GG: How did you get started in music? You've said in previous interviews that you knew from the beginning that you wanted to pursue music…did you face any obstacles during that pursuit? Were you ever discouraged along the way?
LL: Man, so many people discouraged me from pursuing music. My family insisted that it was very unlikely that I'd find success since "no one ever makes it." They stressed the importance of a college degree (which I earned and have yet to apply) as a plan B, which was actually by order plan A. I understand their concern and appreciate their insistence on education. I'm grateful for that experience. However, I do firmly believe that if a young person knows what they want to do, can see their path clearly, their people should get behind them and help them achieve that in any way possible. I think it's a rare thing that someone knows what their life is meant to look like. 
GG: What has been your favorite show to-date and why?
LL: I'd have to say it was a show at the Goat Farm in Atlanta, GA. It's a magical place, smothered in creativity, by all walks of life. I can't really put the experience into words. You just have to see it for yourself. 
GG: Do you have any words of wisdom for girls/women looking to pursue a career in music?
LL: This goes for anyone; have a vision and follow it. It will take a life time to figure out who you are, but being true to that process is what makes compelling art. Know that no one is going to make your career for you. Know that it takes more than talent and ability to succeed; it takes an extreme amount of endurance, determination and commitment.
GG: What do you have in store for the next year? Do you plan to do a lot of touring? What can folks expect at your shows?  Will you be playing any Guilds on the tour? 
LL: I'll be touring heavily this year in the US and Europe, to support my new record, RESISTOR. We'll be doing everything from full band shows to performing as an intimate duo with Joshua Grange. In all arrangements, the shows are very dynamic and visit my entire catalogue. And I'll always have a Guild with me!!!
—
Keep an eye on Lera's website and social media for more information about her upcoming album. Follow these links to learn  more about Lera's Starfire III and T-50.