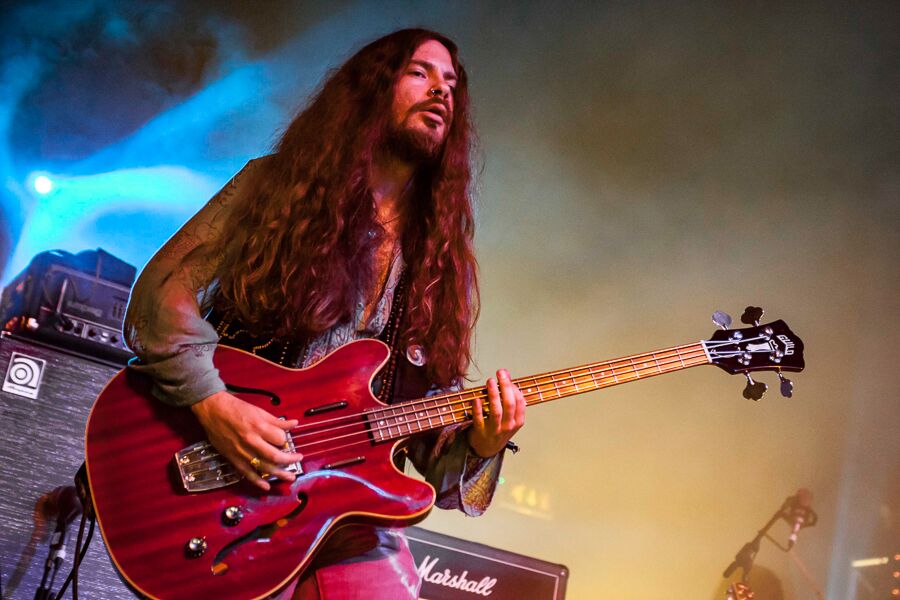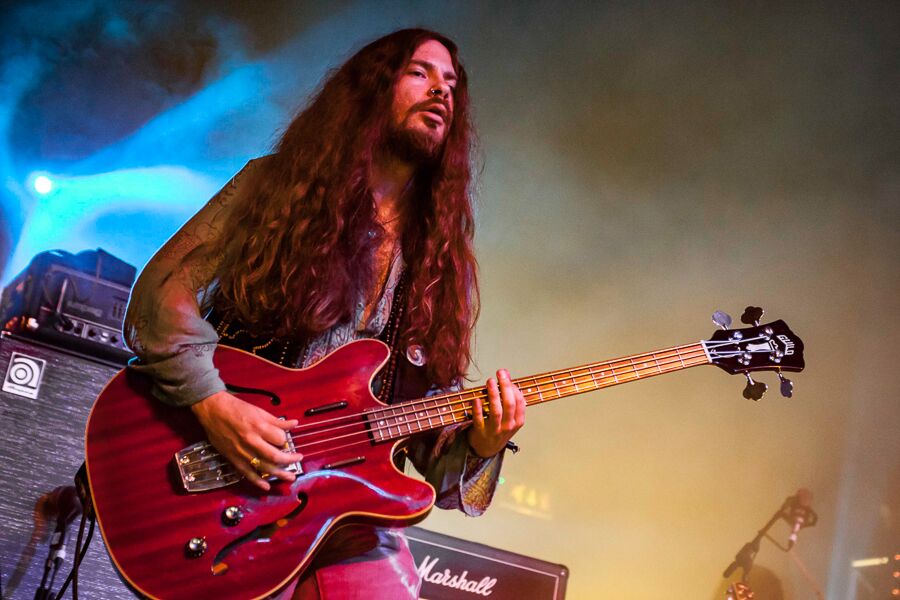 UK band Purson is the perfect psychedelic rock band for the modern age. Lead by vocal powerhouse Rosalie Cunningham, the band has performed with such notable bands as Kiss, Pentagram, and Uncle Acid & the Deadbeats.
"There's no Satanic gobbledegook or limp spellcraft scrawled across the pages of Purson's songbook. Their interests lie closer to home–over the river and through the woods, on haunted moors and buried deep within English folklore and cautionary tales," writes Pitchfork of the band's first album "The Circle and the Blue Door." With words like that, we were curious to learn a bit about the them, and how they achieve such a noteworthy sound. So we went straight to the source and chatted with Purson's bassist, Justin Smith, who plays a Guild Starfire Bass that delivers so much of the band's 70's tone.
GG: What was your first experience with Guild?
JS: Seeing pictures of Jack Casady playing his! The Starfire bass is just such an iconic instrument of my favourite period for music (late 60s, early 70s), and I've always been a fan of its look and sound. But there has never seemed to be many about over here in the UK. I felt like an over-excited child when I found out it had been re-issued! 
GG: Tell us a bit about your Guild. How did you decide on a Guild? How do you have it set up? Did you make any modifications to it?
JS: I've used various basses over the years, mainly solid bodies, but never quite got what I was after. Once I found out the Starfire bass was available again it was the only choice! Now I can't imagine using anything else.
I have it set up with heavy gauge La Bella flatwound strings. I play with a mix of fingers and pick. I like the action a bit higher than most people, as I tend to play quite hard. No need to modify the bass, part of its charm is how simple it is! I prefer to control my sound by how I play rather than messing with a load of knobs and buttons. The Starfire is so responsive to how you make contact with the string, which is one of the main things I love about it! 
GG: Tell us more about your rig in general. Do you use any pedals? Your bass amp?
JS: I run into an Ampeg SVT + 8×10… Nothing else will do! FX-wise, I sometimes use a fuzz and a bit of delay, but I'm not down with overcomplicating things! 
GG: Purson is obviously very psychedelic rock-influenced. How does your Guild bass shape that sound?
JS: The Starfire is that sound. Everything about it… With flat wounds it gets the most beautiful percussive tones with every note remaining crystal clear. With a pick it gives you McCartney-esque swells and tic-tacy tones in the higher register, and finger picking by the neck gives you smooth soul. You can also get a great bluesy growl when you open up and give it some!
The neck is the easiest thing to play… the shorter scale means you can fly around with little effort and make the most of the board. I've found this to be more inspiring to me as a player.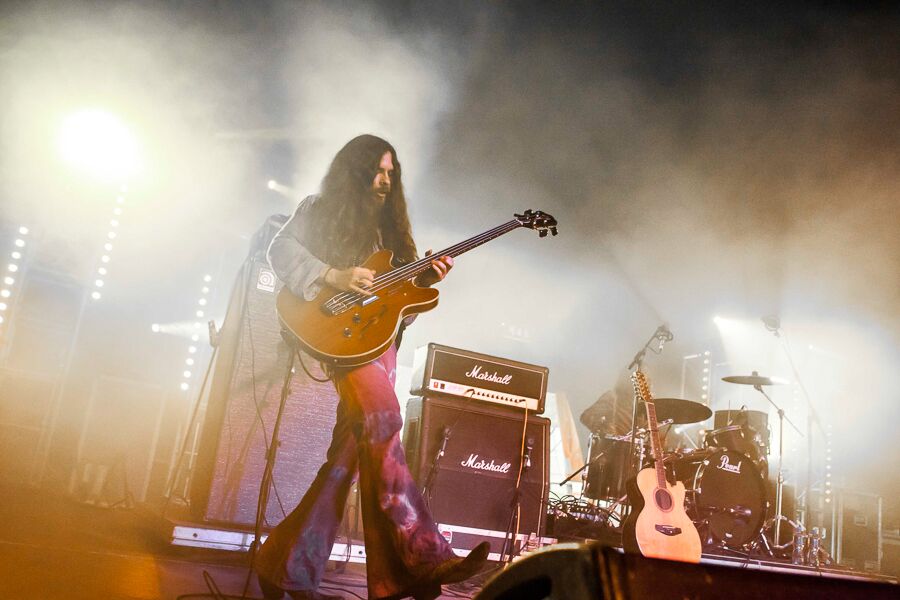 GG: How did you get involved with Purson?
JS: Pretty boring really… I heard they needed a bass player! I got in contact and went to round for a little jam. We played like two songs, clicked and that was that. A week later we were playing shows!
GG: Any favorite memories from the road?
JS: Every moment (excluding all time in airports)! I love being on the road and playing shows. I feel privileged to be able to do so! It's getting harder and harder for bands and musicians to get on their feet and function these days. We've been fortunate enough to have had some great opportunities and still do everything our way, without having to compromise. 
GG: What's your favorite gig to-date been?
JS: A certain annual happening by the Mediterranean sea, whose identity/location we keep secret to prolong its purity will always be my spiritual home!  
GG: What are your/Purson's plans for the future?
JS: We have a new album (the bands second) coming out in the fall, called 'Desires Magic Theatre' via Spinefarm/Universal records. We're then touring North America in September/October with Ghost, followed by more dates back in Europe. 
I just want do do as many shows as I can at the moment. There's nothing I love more than being on tour and having the chance to play to people every night!

Check out Purson in the video below. Learn more about the band on their website!