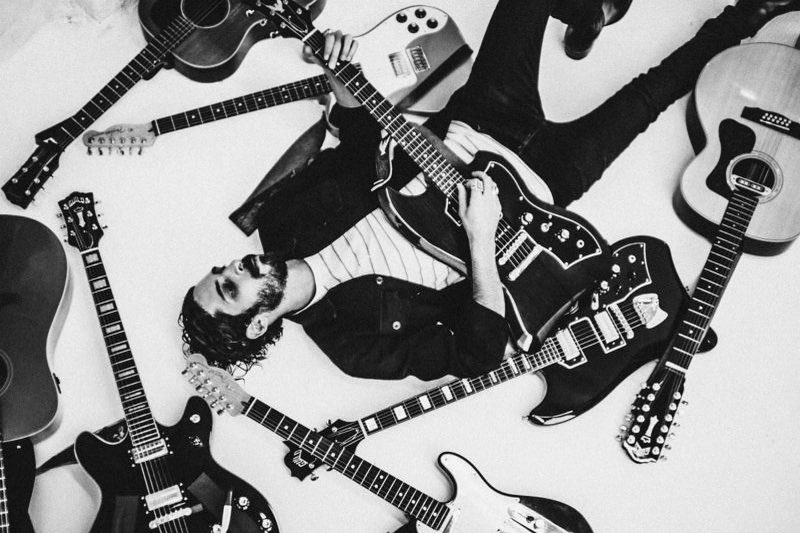 If you've been to a festival in the last two years, or if you've listened to the radio at all, then you've probably heard Dan Sadin. He's been hitting the road hard on tour with LA duo Frenship, adding those punches of electric guitar you hear on hits like "Capsize" and "1000 Nights." Dan–or Danny, as we know him at Guild HQ–plays a variety of Guilds to add sonic texture to the synth-heavy Frenship, including a Guild Starfire V and an early prototype of the S-200 T-Bird.
Danny just released his first solo EP, and we can barely contain our excitement. We thought we'd check in with Danny before his big EP release show at the Lodge Room in Highland Park.
GG: Tell us a bit about your background. How did you get started with music?
DS: Music has always been in my blood. My grandfather, Grandpa Sadin, was a jazz pianist and arranger. I would watch him play the piano and he would sing to me when I was pretty young (he passed away when I was 8 years old). That's when I started learning piano, then trumpet, then guitar. Music has pretty much been the only focus in my life – I think part of that focus is for my grandfather, since he never got the opportunity to pursue music professionally. The other part is that I don't know how to express myself any other way. Even when I don't know what I'm feeling, music has been a way to clear my head and sort my thoughts. 
GG: Was there a specific moment when music transitioned from a hobby to what you wanted to do as a career?
DS: My mom actually saw it before I did. As a kid, you have a bunch of different hobbies and interests, but she pretty much told me that music is what I was meant to do. Not that I couldn't make the decision for myself, or see it, but she gave me the little kick in the pants I think I needed at the time. And it was really meaningful to have that support. Also, I went to music school, I studied guitar and songwriting at USC. I don't think there's any turning back after that, haha.
GG: When & how did joining Frenship happen?
DS: I joined Frenship in the fall of 2015. At least that was the first show I played with them. I was living with James, one of the singers, at the time. They had this acoustic show they were playing at the W Hotel in Hollywood and they asked me to sit in with them about 30 mins beforehand. I didn't know any of their songs, but that was all it took. I haven't missed a single show with them since.
GG: When did you decide to pursue your solo music?
DS: I have always written songs outside of the projects I was involved in but none of them really came together in a cohesive way that spoke to me and what I wanted to be as an artist. I think part of that inability to find my voice was an excuse – I was scared to face myself in the mirror and look at who I am or could be as an artist. I was scared to put myself out there and be rejected. But after the last few years with Frenship, which have been incredible and filled with opportunities and dreams come true, I realized that there was a piece missing from these experiences:  I was doing this with somebody else's music and voice, not my own. At the end of last year, between tours, I locked myself away and I pulled songs from the past few years that I had started, finished them and decided to force myself to release an EP. And here we are – I'm both ridiculously excited and scared at the same time.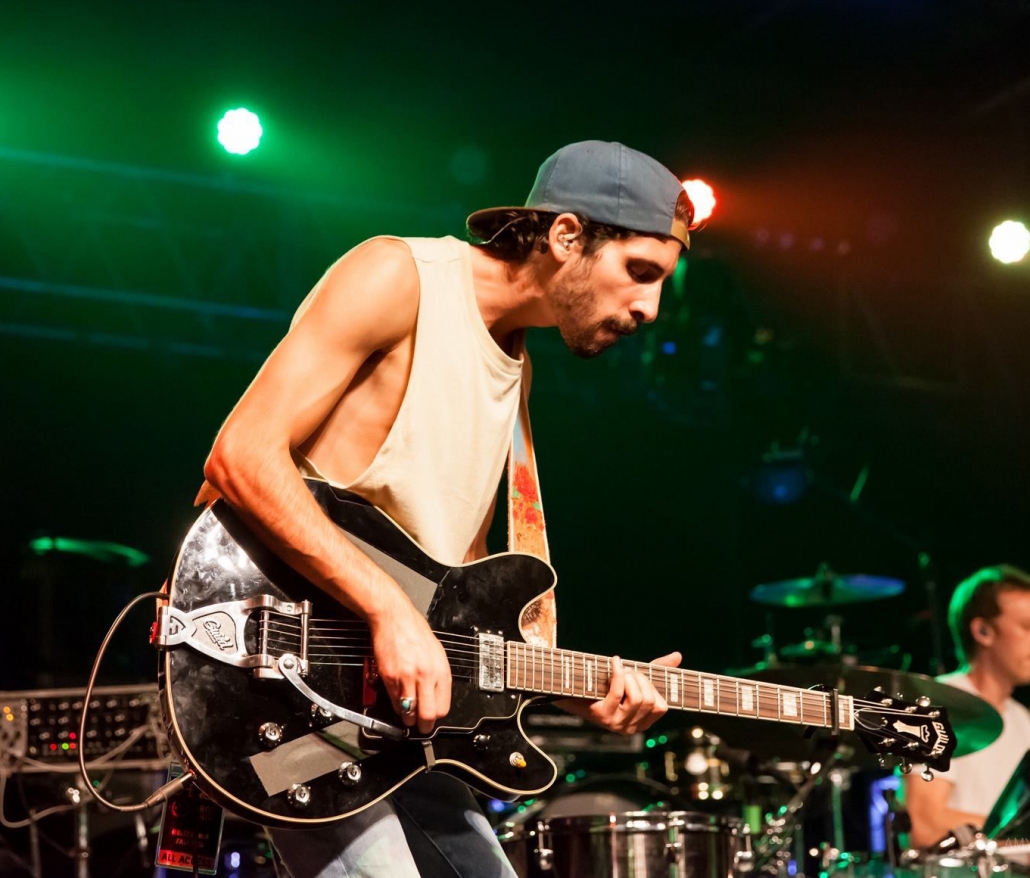 GG: Tell us about your Guilds. Any standouts? What draws you to them?
DS: Man, I'll always remember my first…my black Starfire V. It came straight from the factory and I'm pretty sure I'm the only one who's played it (like really played it). So it's completely formed to me and my playing. I had always played solid body Fenders before that Starfire, but there's something very special and magical about that black beauty. It just sounds and plays amazing and is super versatile.
GG: Does your Guild influence your tone and your style of writing?
DS: Yes. I think a guitar is like a brush for a painter…it can either help you to express what you're trying to get out or be the wrong tool. That Starfire V is pretty amazing and became my go-to for a long time. I have also been using a Guild 12-string on just about anything that I can fit it on – it sounds so good.
GG: Tell us about your song writing process. Do you write melodies first, or words? Both at the same time?
DS: I prefer writing a song acoustically and then starting to produce it out after it's finished or close to finished. Usually I'll start with chords/progression. Then I'll start mumbling melodies and sound out vowels that turn into words. I'm a big fan of writing to what sounds naturally come out of my mouth as I'm singing the melody. I think it usually tells me what I need to say. Once I have the basic idea of what kind of song I'm writing, I'll dig into the sections and structure. Usually I'll flip the order, a verse will be come a chorus, or vice versa. It kind of feels like putting a puzzle together in a way. Also, songs come together in different ways every time so it really just depends on the day, haha.
GG: What's been your favorite gig to date?
DS: That's tough, maybe Outside Lands 2017? I grew up in San Francisco. I literally walked from my parent's house to load in for the festival and then played for my hometown on the same spot I used to play soccer as a kid. I don't think it gets any crazier than that!
GG: Who are your biggest influences?
DS: It changes all the time, but right now I'd say Tom Petty, Mike Campbell, Bruce Springsteen, Fleetwood Mac.
GG: What do you do when you're not gigging or playing music? Any other hobbies?
DS: I love to cook. And I build things, mostly furniture but I also built the studio I work out of. I also really enjoy camping with my girlfriend and our dog.
GG: What's in store next?
DS: I just released my first EP and am having a release show on 6/28 at the Lodge Room in Los Angeles. I also have a show on 7/24 at Madame Siam in Hollywood with some close friends. And I will be playing more, writing more, and releasing more music!
Learn more about Dan Sadin here. RSVP for free to his show at the Lodge Room here (hurry, it's almost sold out!).