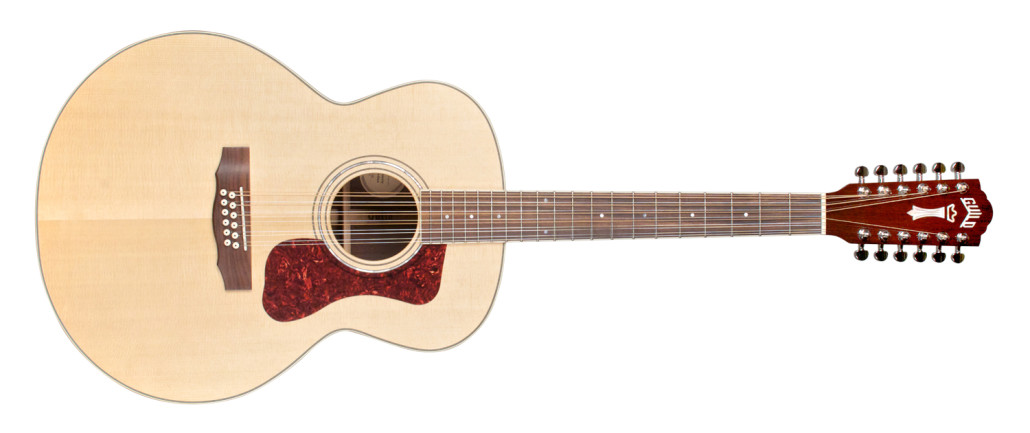 Acoustic Guitar Magazine recently reviewed the Guild F-1512 from our new Westerly Collection. Here are a few stand-out quotes from their article:
First Impressions:
"When not made well or set up properly, 12-string guitars can be discordant nightmares. When such instruments intonate evenly all along the fretboard, even fundamental chords and simple melodic runs seem to shimmer. Our F-1512 review model chimes and jangles with no tuning issues whatsoever."
On the Neck Width:
"By necessity, virtually all 12-strings sport beefier necks and wider fretboards than their six-string counterparts…this can be challenging for players with small hands. That said, the Westerly F-1512 is comfortably proportioned, with a 1 7/8-inch nut width, 2 3/8-inch string spacing at the bridge, and relatively slender C-shaped neck."
On the Overall Sound:
"The Westerly F-1512 has a remarkably well-balanced sound for an instrument at this price point. The low frequencies are full bodied, the punchy mids give the guitar an up=front presence, and high end is almost lacy. Such depth of character is due in no small part to the pairing of venerable tonewoods (solid SItka spruce top; solid Indian Rosewood back and sides) as well as the scalloped Sitka spruce X-pattern bracing."
"With its full-spectrum voice, the F-1512 mics up nicely for studio recording or live performance."
Guild has always been known for their impeccably crafted 12-strings, and the F-1512 certainly carries on the tradition. Click here to read the full review from Acoustic Guitar Magazine (and see their demo!). Learn more about the F-1512 here, and check out our demo below. Try out one of these guitars for yourself at a dealer near you!